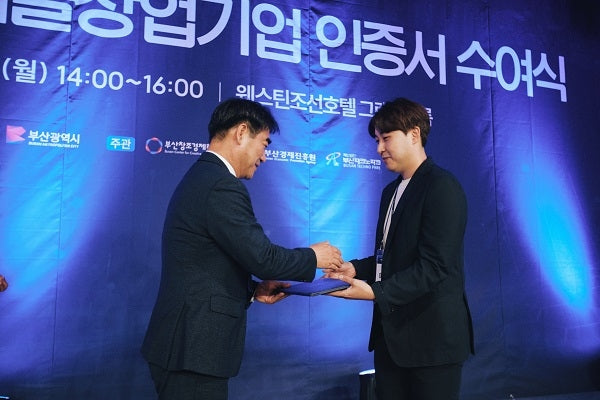 CALAB (CEO Lee Seung-wook), a next-generation filter material company, announced that it has been selected as a new operator of the "2023 Ace Stella Promotion Support Project" implemented by Busan Techno Park.
Since 2017, Busan's leading start-up companies have been carrying out support projects by dividing the growth stages into four, including △ Bright Club △ Million Club △ Platinum Club △ Ace stella, and depending on the club, they are organized and supported by institutions such as the Busan Creative Economy Innovation Center (Busan Changkyung), Busan Economic Promotion Agency (Busan Gyeongjinwon), and Busan Techno Park (Busan TP).
In particular, "Ace Stella" is the final of the four growth stages, and plans to discover three start-up companies that have been verified for their business feasibility through strict screening under the supervision of Busan Techno Park to provide up to 100 million won in commercialization funds and intensively foster them to continue to grow into baby unicorns and prospective unicorns in the future.
A total of three institutions, including CA Lab, Slash B Slash Co., Ltd. and LiveX Co., Ltd., were selected as Ace Stellar, and Lee Seong-kwon, deputy mayor of Busan City's economy, directly awarded them.
CALAB commercialized electrostatic-nanocomposite filters based on its own filter material technology, and operates a clean tech brand called "AEREA" that takes care of all spaces where people stay based on these material technologies. In addition, the scope of the business is rapidly expanding by managing and delivering air cleaning filters in the entire Busan subway station as well as multi-use facilities and starting delivery with air conditioning filters for the Ministry of National Defense and large ships.
Lee Seung-wook, CEO of CALAB who was selected as Ace Stella, said, "I think it's more meaningful because I was born in Busan and started a business in Busan, can be selected as the representative start-up company of Busan, Ace Stella." With this opportunity, we will make more efforts to become a unicorn company and a global No. 1 clean tech company."