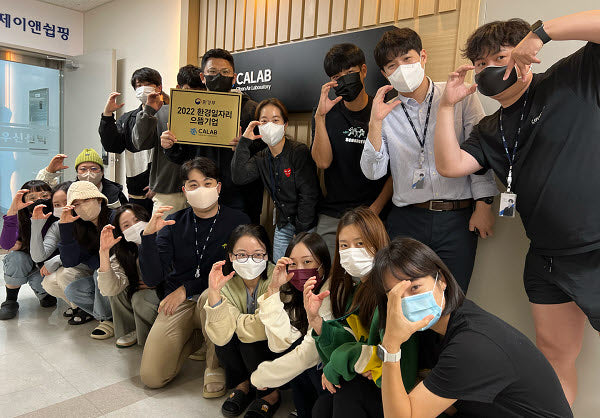 CALAB (CEO Lee Seung-wook), a clean tech company that operates the ultra-high-altitude filter technology brand AEREA, announced on the 2nd that it was selected as the best environmental job company last month by the Ministry of Environment and the Korea Institute of Environmental Business and Technology.
The top environmental job companies select only 10 companies once a year for excellent companies in the quantitative growth of job creation, quality stability of new regular workers and employment retention rates, contribution to environmental improvement, and corporate growth and stability.
CALAB operates a four-day week system applied to all departments. In addition, work flexibility is being implemented, such as the extended lunch time system and the time difference commuting system. Based on autonomy, the company achieved 500% sales growth in 2021 compared to the previous year by increasing the satisfaction of its members and improving work concentration through the working environment.
Lee Seung-wook, CEO of CALAB, said, "The basis for launching differentiated products from the technology that leads the clean tech sector is due to our colleagues, and I think the reason why we were selected as the best company for environmental jobs is that we thought about and tried to create a company that our colleagues could happily go around."
Meanwhile, the AEREA brand operated by CALAB is a clean tech brand that improves the air quality of all spaces, from indoor to outdoor to vehicle. In addition, it stands out in the field of filter replacement masks and ventilation filters, and is expanding its market share with automobile air conditioning filters that can be used for two years released this year.