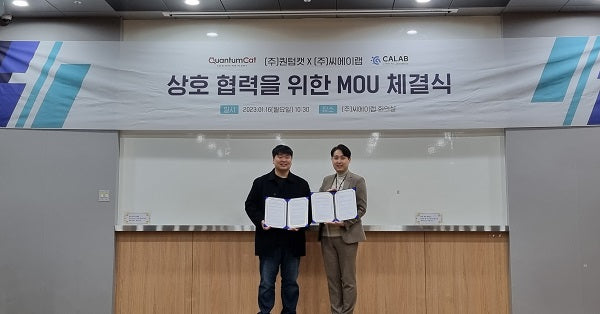 Clean tech company CALAB (CEO Lee Seung-wook) announced on the 18th that it has signed a business agreement with KAIST's gold nanocatalyst startup, Quantum Cat (CEO Kang Shin-hyun) to establish an alliance in the clean tech sector.
CALAB is a convergence filter material company founded by scholars from Pusan National University and UNIST, and is a clean tech company that is taking the lead in reducing waste and carbon with a long filter life while blocking fine dust and viruses with high efficiency. Based on its own filter technology, it is introducing various products such as ventilation filters, filter replacement masks, and vehicle filters through its own brand, AEREA.
Quantum Cat, which signed an MOU with CALAB this time, is a company founded by graduates of master's and doctoral degrees from KAIST and is drawing high attention for contributing to carbon neutrality as a new concept catalyst that exhibits very high catalytic activity at room temperature.
Through this strategic alliance, we intend to become an Avengers in the clean tech material field by removing particulate matter such as fine dust from harmful substances in the air with CALAB's filter material technology and collecting gaseous substances such as volatile organic compounds with Quantum Cat's catalytic material technology, a CALAB official said.
Meanwhile, CALAB recently participated as a representative company in Busan at CES2023 and unveiled an all-in-one ventilation cleaning solution with its filter material technology, and received keen attention as a key product to improve indoor air quality and respond to demand for new and renewable energy, which are key elements of smart cities such as Vietnam and Indonesia.